2016 Commemorative Poster - "A Perfect Balance"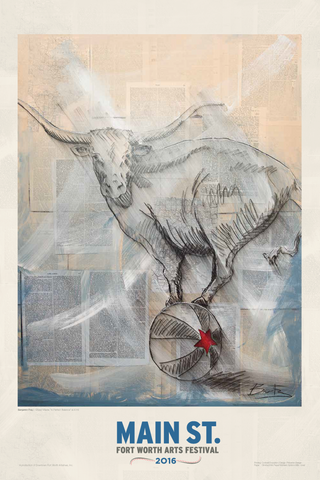 $20.00
Ever seen a longhorn in a circus? That's the subject of our 2016 commemorative poster created by Benjamin Frey, from Buena Vista, Virginia. The striking painting continues the theme of Frey's recent works featuring carnival acts and circuses. "It is a sense of curiosity and wonder that leads me to images of travel, circuses, and carnivals," said Frey. "Like a modern mythology, they are the last places we allow ourselves to believe in monsters and giants and uncommon acts. And as such they are an exciting reminder to our too often dormant sense of wonder." To see more of his work, visit booth #401, or check out his gallery images here.
This beautiful, unframed poster (signed or unsigned), is printed on Mohawk Options cover paper stock courtesy of Olmsted Kirk Paper Company and printed by Cockrell Enovation. The poster was designed by Pinkerton Design. Poster is now available for shipment comes rolled in a sturdy packing tube.